In FFXI news, I have not as yet massacred enough bunnies to unlock Dark Knight as an advanced job yet. Also, I'm becoming convinced that the Beastmen's ability/likelihood to aggro has either:
a) been gimped beyond all recognition
b) become entirely arbitrary
Seriously, I recall beginning my FFXI-related life as a teeny tiny Deathgnome and crawling up the single-figure levels in Sarutabaruta. I remember being terrified of the goblins and Yagudo that ran around the place while I was busy being single-figure-level nothing. I recall the indescribable noise produced when some nasty beastie horror caught sight of you from some unfathomable distance and being obliged to either stand and fight (low MP, low HP, no hope in hell) or run like the wind and zone out (oh, but the nearest zone point is half the area away; how fast can these little springy Taru move?) or ... well, hope that someone spots you dying and leaps in to help. Your ears become very sharp very fast when it comes to that indescribable noise of being aggroed.
I don't expect to be levelling Warrior and crossing the path of a goblin at level five, only to have it not even
notice
until I shove a sword in its face. Some of them noticed me and aggroed. Some of them did not. I am ... bemused by this. However, not being aggroed by the goblin that I was going to attack anyway in no way alleviates my displeasure at being aggroed by an Orc hiding behind a faraway tree
waiting
to ambush me while I was taking my stupidly slow great sword Chaosbringer to a Forest Hare. I came very, very close to triumphing over both. However, I did not triumph over both. The mutant rabbit died. The Orc ... not so much. Bloody Warcry.
So anyway, yeah, I am going to have to go and kill more mutant rabbits to actually unlock this job. And you hear me talking about 'mutant rabbits' and wonder what on earth I mean?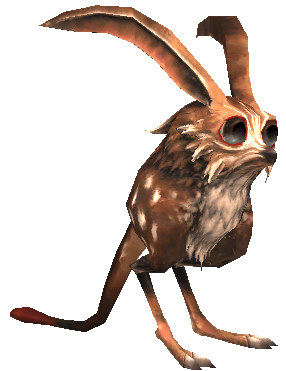 That's a rabbit in the wonderful world of Vana'diel. Kind of looks like the mutant offspring of a rabbit, a gerbil and an owl, doesn't it? This is not the freakiest thing in FFXI, but it's one of the first you see if you start up anywhere but Bastok. Seriously, a look at any bestiary for the game is worth it just for the "OMGWTFBBQ?" factor. One day I'm going to make a list of all the BIG things I've fought, just to say I did.
Also, before I get too caught up in squishing the little mutant hoppers? Interview with Carl M Tanner, Hunter's Get and accountant extraordinaire. This particular interview is kind of special because it's the only one that hasn't
entirely
seen the light of day yet. See, I wrote this for email distribution and there were profanity filters to be considered and so the entirety of what I sent out was marked out with [expletive] where the swear words should be. But there are no profanity filters here, unless you the blog reader have put them there yourself, and so...
( Interview with a Demigod: Uncut )
Right. Food, then the mutant bunnies go SQUISH.